AKUT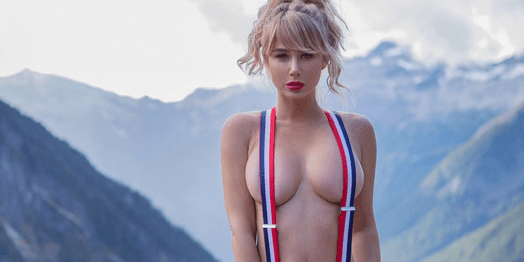 Wie man Schwarm der Woche wird? Ganz einfach. Uns geht es nicht um viel nackte Haut, sondern um ästhetische Fotos und interessante Gesichter. Wir nehmen aber auch gerne Vorschläge entgegen.
Diese Woche haben wir für euch das Profil von Sara Jean Underwood. Die US-Amerikanerin ist als Schauspielerin und Model aktiv. Bereits 2005, Underwood war gerade Anfang 20, war sie am Cover des Playboy zu sehen. Sie spielte in den Filmen Fantastic Movie und Deadly Weekend kleine Rollen und war in den Serien The Hills und The Girls of the Playboy Mansion zu sehen. Außerdem tritt sie für die Fast-Food-Kette Carl's Jr. neben Emily Ratajkowski in einem Werbespot auf. Besucht man ihr Instagram-Profil, sieht man die Blondine in knappen Outfits, so wie viele andere Instagram-Stars auch. Das besondere daran ist das Setting, im Hintergrund ihrer Bilder sind wunderschöne Landschaften zu sehen. Underwood ist für ihre Fotos viel in der Natur unterwegs. Einmal ist sie in einer Höhle, einmal am Fuße eines Bergs und einmal steht sie unter einem Wasserfall. Und es gibt viele Fotos mit Tieren. Dadurch sticht ihr Profil heraus.
Sara Underwood an der Seite von Emily Ratajkowski in einer Werbung für Carl's Jr..
Sieht so die perfekte Freundin aus? Wenn es nach der Plattform 1stslice.com geht schon.
https://wiener-online.at/wp-content/uploads/2017/05/Bildschirmfoto-2017-05-23-um-13.31.54.png
262
524
Franz J. Sauer
Franz J. Sauer
2017-10-23 14:06:16
2018-09-23 21:07:36
Schwarm der Woche